About Rampaging Chariots
The Rampaging Chariot is a powerful, radio controlled featherweight sporting robot that is used by schools and youth groups to compete in a tournament to determine the Robotic Games Champion. It is a project aimed at interesting young people in engineering organised by the Rampaging Chariots Guild.
You receive the robot as a free kit and your team builds it and tests it (this takes about 12 hours work). You can then design unique bodywork and think of ideas to improve its performance.
The climax of the Rampaging Chariots Project is the annual Scottish Robotic Games . It is held at the Leonardo factory in Edinburgh. Schools Young Engineer & Scientist Clubs and Air Cadet teams battle it out in Football, Sumo, Assault Course and Tug-of-War for the Scottish Grand Champion trophy.
This engineering challenge can teach:
Design and Technology
Wood and metal working skills
Basic electronic engineering
Electrical skills
Radio control
Design
What are the aims?
The aims of the project are to get young people interested in engineering and to study science based subjects at school and university.
What are the end goals?
All the teams compete in a tournament including a two-a-side football competition, an assault course, sumo "wrestling" and a tug of war.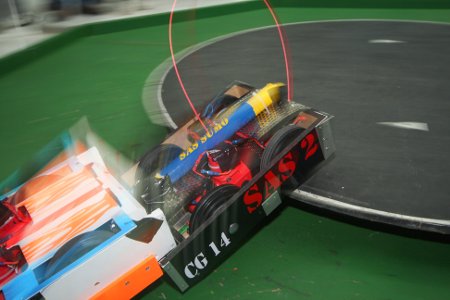 Who can participate?
Any school or youth group aged between 13 and 17 based in Scotland can apply to be involved. A team should ideally consist of 3 or 4 members.
What is the cost?
The first kit for each group will be given FREE by the sponsors. Additional kits are available to purchase at a subsidised cost of price of £100. We strongly recommend that participating organisations purchase at least one additional kit. This will allow you to practice your driving skills and allow you to form your own two-a-side football team (with the ability to practice together before the competition).
How can I get involved?
To get involved please email apply@rampagingchariots.org.uk who will give you more details on the project and what to do next.
What happens if I need help?
If you need help during the project then the Rampaging Chariots Guild will arrange for a Leonardo volunteer engineer to give assistance.
A quick look at construction:
Build a chassis to a standard design from a kit of wood, plastic and metal parts
Construct two electronic motor controllers from a kit (soldering required)
Dismantle two cordless electric drills
Install the drill motors, wheels, batteries, radio reciever and aerial in the chassis
Wire up the components
Customise and test your creation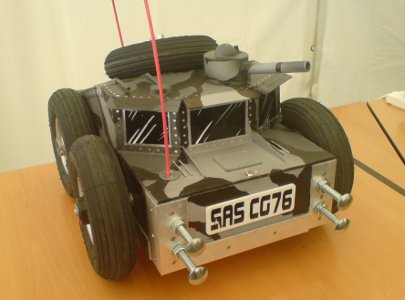 A bit of Tech Stuff
Features:
High performance diagonal drive allows turning on the spot. Two channel proportional control including reverse.
Physical:
Size: 400mm L, 310mm W, 150mm H
Weight: 8.5Kg
Power:
Voltage: 18V DC
Batteries: Two 1.2Ah Ni Cd rechargeable batteries
Performance:
Acceleration: 0 to 10mph in 0.9 seconds
Turning: 90 degrees in 0.25 seconds
Radio Control:
4 Channel FM: 40MHz band