About Typhoon
It all began in April 2001 when Squadron of Edinburgh Air Cadets were discussing what to do as a project for the next year. They wanted to build a robot to enter the TV programme Robot Wars and their Officer, who worked for an avionics company now called Leonardo, recruited six engineers to assist.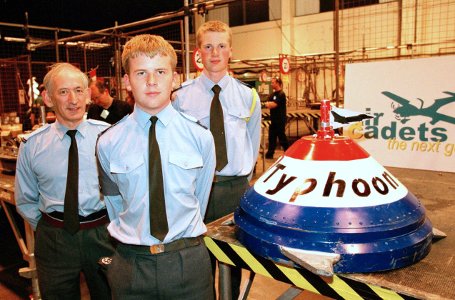 Together they analysed the benefits of several types of robot design and by applying some science and mathematics to the art of robot destruction chose a spinning cone weapon that stored up energy over a number of seconds and released it in a milli-second on the opponent. So began the most exciting and successful project ever undertaken by the Air Cadet organisation.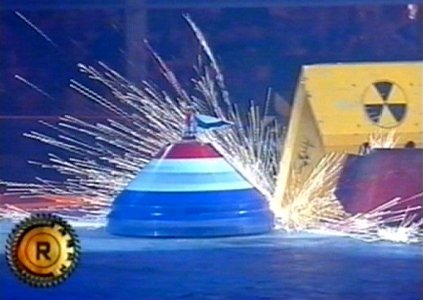 The first robot was called 'Typhoon', weighed 50 Kg and won the Middleweight competition at our first visit to the TV studios.. The following year the cadets produced two lightweight (25kg) look-alike twin robots (Typhoon Thunder and Typhoon Lightning) for both competition and training. The influence of the female cadets can be seen in Typhoon Thunder, the robot they built themselves which is fitted with a pleated mini skirt. Typhoon Thunder was entered in the Lightweight Championship on its own, but both lightweights were teamed up as a clusterbot as an additional entry in the Middleweight Championship. This was only the second clusterbot in the history of Robot Wars and the rules state that the pair must enter the arena as a single unit before splitting for combat. The solution involved wiring the robots together and joining their cones with a frangible cover which was discarded when the cones spun up at the start of the fight. Driving the Typhoon Twins into the arena as a single unit required similar skill to a close formation flypast in a pair of Eurofighter Typhoons.
These were followed the following year by their big brother; a heavyweight (100kg) Typhoon 2 which was truly a weapon of mass destruction. This robot won the whole TV series and scooped the coveted 'Grand Champion' Trophy.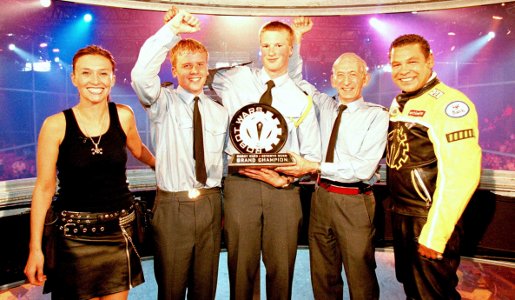 Having won Robot Wars the team were invited to enter the 2005 World Robot Olympics in San Francisco and came home with a Silver Medal.
In 2003 we also entered the BBC programme Technogames with a robot called Rover which was specially designed for the Assault course and to play Football. It was very successful in winning the assault course in a world record time and coming second in the football supported by Typhoon as goalkeeper.
Honours gained
Robot Wars Middleweight Champions 2001
Robot Wars Middleweight Champions 2002
Robot Wars Lightweight Champions 2002
Technogames Assault Course Gold Medallists 2003
Technogames Football Bronze Medallists 2003
Robot Wars Middleweight Champions 2004
Robot Wars Heavyweight Grand Champion 2004
World Olympic Silver Medallists 2005