The Beginnings
Typhoon
It all began in April 2001 when Squadron of Edinburgh Air Cadets were discussing what to do as a project for the next year. They wanted to build a robot to enter the TV programme Robot Wars and their Officer, who worked for an avionics company now called Leonardo, recruited six engineers to assist.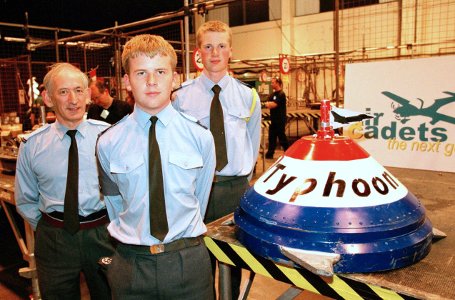 Honours gained
Robot Wars Middleweight Champions 2001
Robot Wars Middleweight Champions 2002
Robot Wars Lightweight Champions 2002
Technogames Assault Course Gold Medallists 2003
Technogames Football Bronze Medallists 2003
Robot Wars Middleweight Champions 2004
Robot Wars Heavyweight Grand Champion 2004
World Olympic Silver Medallists 2005
Read the full story of the Typhoon Robot Project.
The Birth Of Rampaging Chariots
Returning from America in 2005 the Typhoon Robot Team decided to retire from combat robotics and formed the 'Rampaging Chariots Guild' to widen the community involvement and involve a larger number of young people. They designed and produced a kit of 330 parts for Scottish Schools and Air Cadet Squadrons to build powerful radio controlled sporting robots to compete in a National Robotic Games involving an Assault Course, Sumo and 2-a-Side Football Competitions. The robots were named Rampaging Chariots and became an instant hit in secondary schools where pupils wanted to get involved as they saw it as an exciting robotic project.
Leonardo agreed to be the primary sponsor as part of its Corporate Responsibility Initiative and the Scottish Council for the Development of Industry (SCDI) who run the Young Engineers Clubs in Scottish schools became our partner.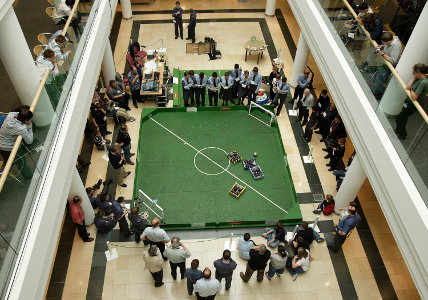 Over 400 Rampaging Chariot kits have now been provided and constructed and our sponsor Leonardo have extended the footprint to schools around its facilities at Basildon and Luton. This includes separate Robot Games at these facilities.
The Edinburgh International Science Festival
Since 2006 Rampaging Chariots have participated every year in the annual Edinburgh International Science Festival. The public are able to drive the robots round an obstacle course and those achieving the greatest number of laps play robot football at the end of each session. This activity includes a workshop where children assemble Rampaging Chariots from a number of pre built modules and then test them in the arena.